Rescue teams worked hard on Thursday to help victims of an earthquake that killed at least a thousand people in southeastern Afghanistan, but their efforts were hampered by resource shortages, mountainous areas and heavy rains.
A magnitude 5.9 earthquake occurred early Wednesday in this poor and inaccessible rural area bordering Pakistan. Already tackling the economic and humanitarian crisis, Afghanistan is facing a new tragedy that poses a major challenge to the Taliban, which has been in power since mid-August.
This was the most deadly earthquake in Afghanistan for over 20 years.
According to officials, at least 1,000 people were killed, 1,500 were injured, and many remained trapped under the rubble of collapsed homes in Paktika's most affected states alone, with more casualties. I'm afraid.
"It's very difficult to get information from the ground because of the bad (telephone) network," Mohammad Amin Huzaifa, head of information culture in Paktika, told AFP Thursday.
He added that it was "difficult to access the disaster area", especially because "it was flooded by heavy rain last night" and emphasized that no new evaluation has been obtained yet.
Heavy rains also caused landslides, delayed rescue operations and damaged telephones and power lines.
The Taliban government has called on the army, but it has few resources. Its financial resources are very limited after billions of assets held abroad have been frozen and international aid in the West has suddenly stopped. ..
International aid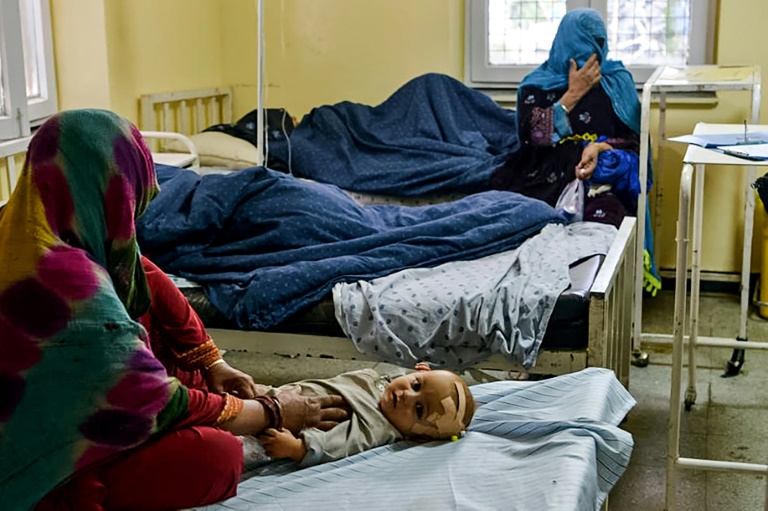 There are only a very limited number of helicopters and planes in Afghanistan. The United Nations emphasized the lack of cleaning facilities, noting that at least 2,000 homes were destroyed, each with an average of 7-8 people. A video shot on the spot by AFP shows a group of men freeing their bodies by cleaning up the wreckage of a completely collapsed house with their bare hands.
The Taliban government said it was doing its best and sought support from the international community and humanitarian organizations that had previously refused to admit it.
However, mobilizing international aid has been difficult, and NGOs and UN agencies have been less present than before since returning to Taliban power.
Nonetheless, UN Secretary-General Antonio Guterres ensured that the UN was "fully mobilized" to support Afghanistan, with the continued deployment of first aid teams and the delivery of medicines and food.
Due to the rain and unusual cold of the season, the population needs to be evacuated preferentially, but food and non-food aid and water, sanitation and sanitation service aid also show the Bureau to coordinate humanitarian issues. It was (tea) of the United Nations.
The Taliban announced on Thursday that it had received two planes with assistance from Iran and one plane from Qatar. Eight trucks full of food and emergency supplies from neighboring Pakistan have also arrived in Paktika.
"Like a tsunami"
The European Union also said Wednesday that it was ready to "provide emergency assistance." "Deeply sad," the United States has announced that it will consider their "response option" humanitarians.
Afghanistan's health care system, which is very poorly equipped, is also under great pressure. "Our country is poor and lacking resources. It's a humanitarian crisis. It's like a tsunami," Mohammad Yahya Weir, hospital director of Sharan, the capital of Pactica, told AFP.
Dozens of survivors were taken to the hospital, including Bibi Hawa, a 55-year-old woman who lived in the most affected Gayan district and lost 15 of her family.
"Seven people were killed in one room, five in another, and three in another," she sighed in bed and grimaced her face with tears. "Now I'm alone. Nobody is there anymore."
Afghanistan is frequently hit by earthquakes, especially in the Hindu Kush Mountains at the junction of Eurasian and Indian structural plates. These disasters can be particularly devastating due to the low resilience of rural homes in Afghanistan.
The most deadly earthquake in Afghanistan's recent history (5,000 dead) occurred in May 1998 in Takhar and Badakhshan (northeast).
■■