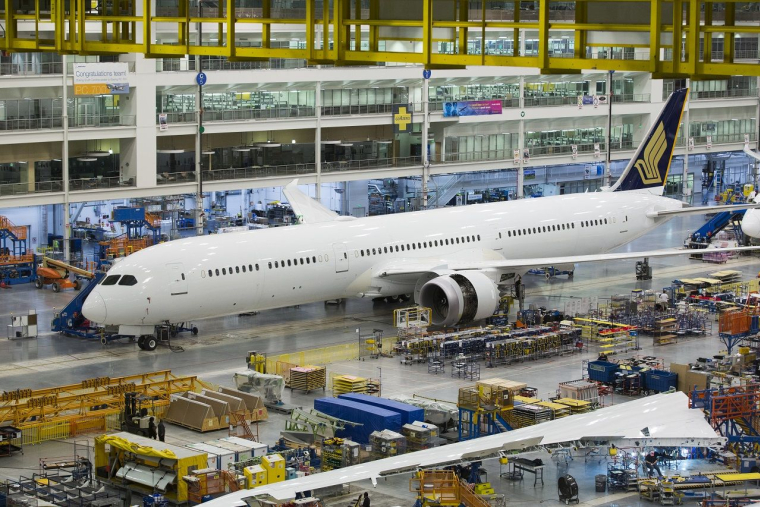 (Photo provider: Boeing-Josh Drake)
Take a look at Boeing's stock market analysis, one of the two world leaders in aviation. Boeing stock ambitions, strategies, stock market profiles, financial performance, technical analysis. Discover this legendary American company in the field of aviation.
Boeing Presentation: Airbus Rival Group Mission and Ambition
Boeing is a leader in aviation, aerospace and defense technology serving airlines and governments in more than 150 countries. Boeing is a specialist in civilian and military aircraft, satellites, defense systems, launch systems, and advanced information and communication systems.
Boeing's ambitions are simple and have been the same since its inception. Leadership in the aerospace industry. To realize this vision, Boeing places particular emphasis on certain industrial and commercial obligations. On the one hand, the company develops in-depth customer knowledge to best meet customer needs in aviation, security, and defense. On the other hand, the company is also recognized for its high level of production efficiency, good control of supply, and the high level of quality that the company applies to its structure, especially the safety of its devices.
However, Boeing is controversial for almost two years after two fatal accidents involving dramatic casualties of 346 passengers, especially due to a control system lesser known to pilots. Designed an airplane, 737 Max. After that, the 737 Max returned to marketing and contributed significantly to Boeing's revenue in 2021.
Boeing is in a fierce battle to regain its world-leading position from Airbus. But for the 2021 delivery, Airbus beat Boeing's 340 with 611 units, even if American aircraft manufacturers made further progress. This is especially explained by the fact that the 737 Max was rarely delivered in 2020.
Boeing's competitive benefits
Stock market cafe
What are the activities of the Boeing Group?
Boeing is the second largest aircraft manufacturer in the world. The activities are organized as follows.
Defense, space, security department
Boeing, the world's second largest defense company, offers a range of solutions that enable customers to meet military, maritime and space mission requirements. Its portfolio focuses on key market players such as military rotorcraft, human space exploration, satellites, autonomous systems, military aircraft, and mobility systems (military aircraft, helicopters, missile defense).
Boeing Commercial Airplane
Boeing Commercial Airplanes is Boeing's commercial aviation division, which provides commercial aircraft to airlines. Over 10,000 Boeing Commercial Airplanes are in service, carrying both passengers and cargo. In addition, the group provides spare parts, providing technical support, maintenance and engineering services.
Boeing Global Services
Boeing Global Services provides service solutions to commercial, defense and space customers, regardless of the original manufacturer of the equipment. Boeing offers engineering, digital analytics, supply chain and training services.
Geographical breakdown of Boeing revenue
Net sales are geographically categorized as follows: United States (62.7%), Europe (14.4%), Asia (9.4%), Middle East (7.5%), Oceania (1.8%), Canada (1.6%) , Africa (0.4%) and others (2.2%).
Fundamental analysis of Boeing earnings
2021 is a rebuilding year for Boeing and the controversial 737 MAX is back in service in all global markets. Boeing also returned to positive cash flow in the fourth quarter.
$ 62.3 billion in revenue
In 2021, the Group's sales were $ 62.3 billion, a weak 7% growth.
$ 377 billion purchase order
In 2021, 535 new orders completed Boeing's purchase order, which now amounts to $ 377 billion.
-Operating loss of € 4.7 billion
Boeing recorded an operating loss of -4.7 billion euros against € 8 billion in 2020.
Net profit is -4.1 billion euros
Net income reached -4.1 billion euros, compared to -8.4 billion euros in 2020.
Operating cash flow of -$ 3.4 billion
Cash flow from operating activities increased from the disastrous figure of 2020 ($ 18.4 billion) to $ 3.4 billion.
Technical analysis of Boeing stocks
Graph analysis of Boeing's stock price in the stock market
Stock market cafe
Source: Café de la Bourse, graphs created based on IG, informative data only
Technical analysis of Boeing's stock price on the stock market
Boeing's stock price has been on a downward trend over the long term (gray in the graph). Boeing's share price has fallen by more than 31% since June 2021. Boeing's share price bounced off the bottom of the corridor in mid-March and is now trading at $ 175 in the middle of the corridor. In the short to medium term, Boeing's stock price is below the 20th, 50th and 100th moving averages (green, black and red respectively on the chart), a negative trend. MACD is negative and is below its signal line, highlighting short-term negative signals. The Stochastic RSI is in the neutral zone.
Our opinion on Boeing stock
Boeing has been doing well since the 2021 fiscal year, but remains in the red. The loss remains very high and the rebuilding of the reputation after the 737 Max blunder is slow. But this year, commercial dynamics have resumed and purchase orders continue to fill up to $ 377 billion. An encouraging person in a difficult field!
Image source: Freepik
Find this article in Café de la Bourse
..